Long Tail Pro is a keyword research tool designed to help website owners find low-competition keywords to support their SEO strategy.
It was developed in 2011 by Spencer Haws, an authority on internet marketing after he became frustrated with the copious amount of tools needed and the time it took to find keywords that would be easy to rank for.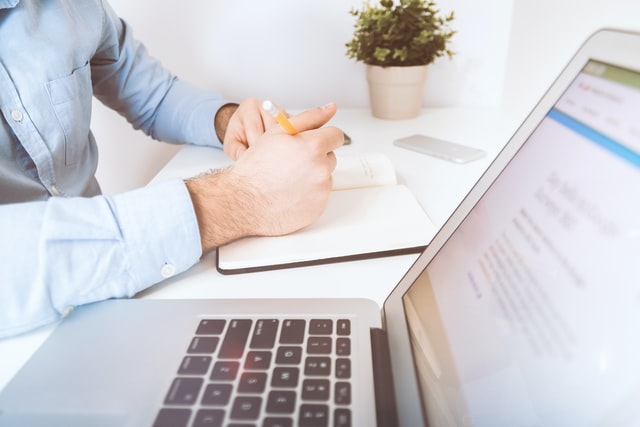 More information about Long Tail Pro?
Using Long Tail Pro, you can enter initial keywords (up to five at a time) and get hundreds of different suggestions and keyword variations.
The software also allows you to analyze a keyword list manually (if you have done prior research) and even evaluate your competitors' domains to discover new keywords in your niche.
Long Tail Pro collects data from Google Adwords and Majestic to provide useful metrics such as search volume, advertiser bid, rank value, and one of my favorites: the Keyword Competitive Score (KC).
The KC score, represented as a unique number from 1 to 100, is Long Tail Pro's proprietary algorithm that analyzes how difficult it would be to rank for a particular keyword on the first page of Google.
I found the KC score particularly useful at first, as it was a super fast and easy way to find low competition keywords without feeling overwhelmed.
As I gained more experience, I began to click on individual keywords to do an in-depth competitive analysis on the top sites that appear on Google.
For example, Long Tail Pro will show you Trust Flow, Citation Flow, External Backlinks, Site Age, and other information about your competition, which I found effective in helping me create a strategy to compete with other sites that they got a high rating.
Pros of using this Tool
Helps you identify keywords to target using proprietary KC (Keyword Competitiveness) score
Able to search multiple seed keywords simultaneously
Excellent SEO training videos for beginners
Cons of using this Tool
Daily keyword search limitations can throttle your research
No search volume trend data
Our Rating
We would like to give 4 out of 5 stars. And we can also recommend that this the best tool for finding long-tail keywords.
Long Tail Pro Pricing
Monthly plans start at $37/month (Starter) for 800 daily keyword lookups, with the most popular plan $67/month (Pro) for 2500 daily lookups
Annual plans also available (with Huge Discount)
Free 7-day trial for $1
Why Focus on Long Tail Keywords?
The term "long-tail keywords" refers to keywords that comprise more than three words. Long-tail keywords tend to have much less competition than generic keywords that contain just one or two words.
Long-tail keyword targeting not only allows you to rank higher in search results (as they are less competitive), but it also targets an audience that is more relevant to the topic you are covering.
For example, let's say you have an e-commerce store that sells candles. If you try to target a generic term like "candles", you will notice that while you have a high search volume, you also have a substantial amount of competition.
It would be incredibly difficult to rank on the first page without extremely strong site authority and a solid ranking strategy.
However, by adding a few more words to this keyword (such as "soy candles with wooden wicks"), you are targeting a smaller segment of the market, which potentially has less competition.
It's Only a Keyword Research Tool
Long Tail Pro is primarily a long tail keyword research tool.
While it offers some nice secondary features, it's not really suitable for analyzing backlinks in-depth or finding competing keywords in the same capacity as a full-fledged SEO system such as SEMrush.
If you're just doing keyword research, Long Tail Pro is an excellent tool.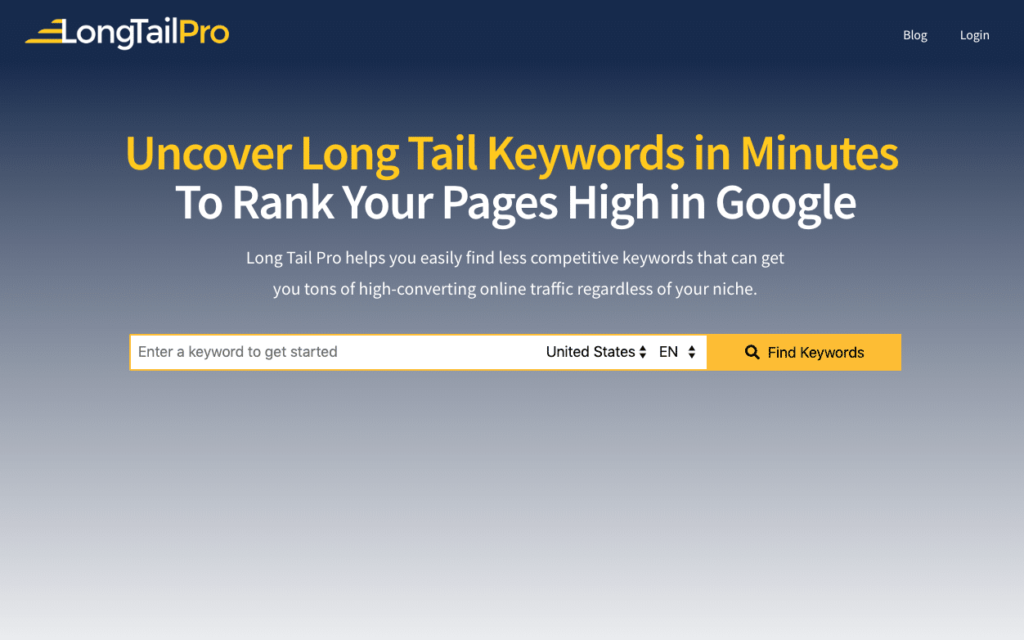 Other Things That Long Tail Pro Can Do…
This SEO tool is more than just a keyword research tool as it is packed with tons of features. Here are some of those features that will make you want to try them right away:
Create multiple projects. (You can have different campaigns for different sites)
Generate keywords based on your initial keyword (seed keyword).
Export keywords into an Excel spreadsheet.
Import keywords into LongTailPro.
Find high-CPC long-tail keywords (great for increasing AdSense revenue).
Find available domain names. (If you're building a micro-niche blog, you can use LongTailPro to suggest available keyword-rich domain names.)
Check the ranking of Google, Yahoo, and Bing for your keywords.
Keyword competition checker.
Favorite your best keywords.
Is Long Tail Pro Right for

You?
Long Tail Pro is one of the best tools for freelancers, bloggers, and small business owners looking to invest in content marketing.
The software allows you to quickly discover new keyword opportunities and easily evaluate the competition using the KC score, saving you hours of tedious research time.
The training videos provided excellent information on how to conduct effective keyword research and would be extremely beneficial for a beginner.
However, I kept having issues with the daily search limit. It was frustrating waiting 24 hours to start my investigation again.
You should also note that Long Tail Pro is just a keyword search tool and not an all-in-one SEO tool, so you may need to pay for additional software depending on your needs.
Wrap Up
Starting at $37/month, Long Tail Pro isn't a minor investment. But it is a great step in the right direction for those who want to increase organic traffic and build a targeted online audience.
They also offer a 7-day trial plan for just $1
To learn more about Long Tail Pro, you can visit their website here.
FAQ
Long Tail Pro is an SEO keyword tool that can help you dominate your competitors. It collects data from Google Adwords and Majestic to provide useful metrics such as search volume, advertiser bid, rank value, and one of my favorites—keyword competitiveness score (KC).
Long-tail keywords are longer, more specific keyword phrases that visitors are more likely to use when they are closer to a point of purchase or when using voice search.
Investing in a professional keyword research tool is a smart move for professionals and anyone who is serious about keyword research.