Understanding content performance and finding reliable ways to optimize your content to engage with your audience's intent and get a higher rank on the Search Engine Results page.
Optimizing blog content and web pages are critical to content strategy, particularly because business owners need to keep a finger on the pulse of their online marketing efforts.
You will need to optimize your website using the best content optimization tool.
Unfortunately, most people are faced with the challenge of choosing between NeuronWriter and Surfer SEO as their website optimization tools.
This article highlights the differences between the two website optimization tools and picks the winner.
Neuron Writer Vs Surfer SEO: Major Differences

Typically, you cannot focus on making epic content alone and hope that your website will secure a top rank…
1. Neuron Writer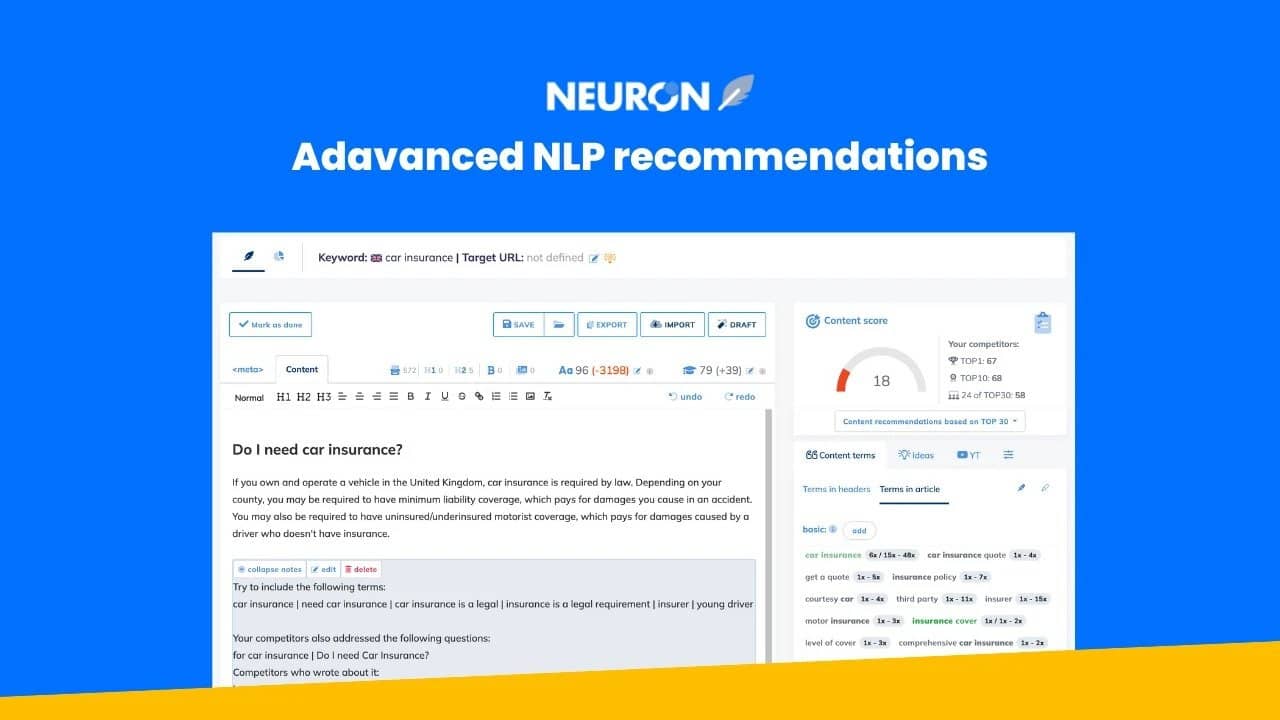 A. Features:
Neuron Writer comes equipped with a bundle of perfect features for content creation and competitor analysis…
1. Content Planning & Article Drafting
NeuronWriter has a user-friendly content editor, which is also clean.
While normal options and features that you would expect are available, it also contains nicer options such as:
The number of times H1 and H2 tags appear
Specific keyword recommendation in a paragraph
Competitor's H1s and H2s list
Keyword suggestions (NLP)
Ideas about YouTube videos
Artificial Intelligence Writer
Questions to answer lists
2. AI Writer
Neuron Writer also comes with an AI writing tool powered by GPT-3.
This is a machine learning platform that offers users the ability to write on a topic of their choice using natural language processing (NLP).
This is an amazing tool that automatically creates high-quality, keyword-rich content.
3. Competitor Analysis
Users can obtain keyword difficulty scores and significant on-page and off-page data for the top 100 competitors…
Just by entering a term into Neuron Writer's interface and select the 'TOP Analysis' tab.
Examples of data points that will be displayed include:
On-page metrics including word count, Content Score, readability, etc.
Off-page metrics include Moz page Mozrank and Moz domain authority.
B. Pricing:
Neuron Writer has affordable pricing plans considering the excellent features provided.
The pricing plan has been highlighted below: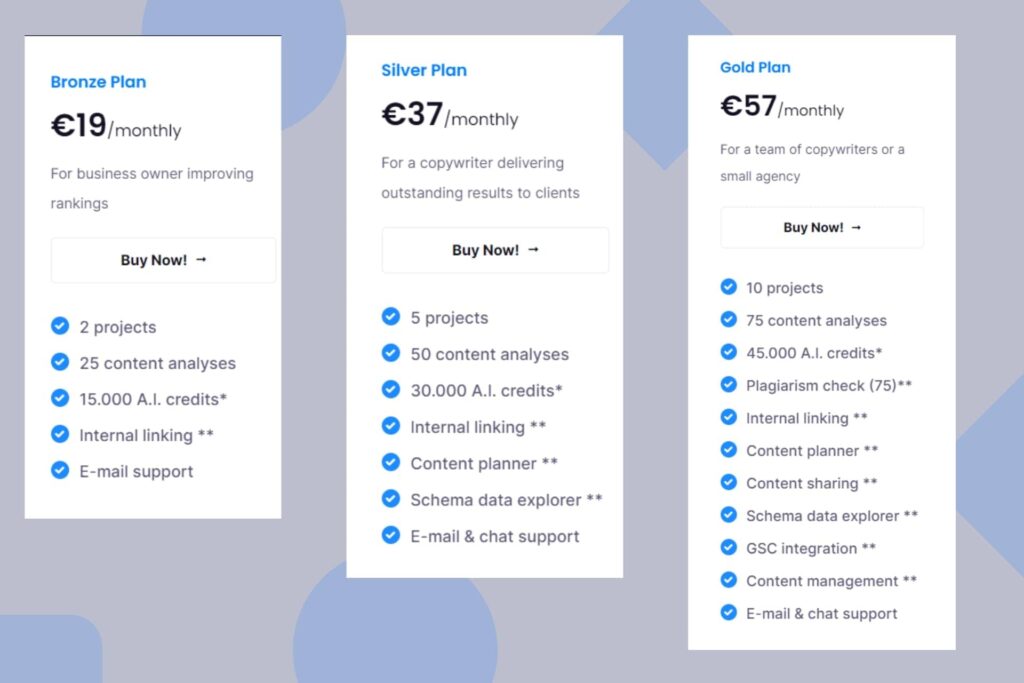 Check Lifetime Deal on Appsumo…
---
2. Surfer SEO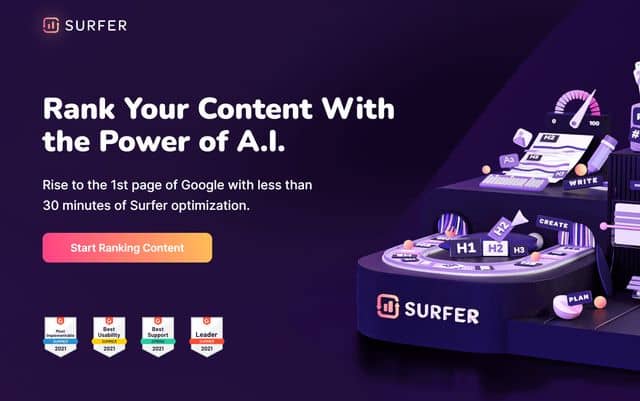 A. Features:
1. Keyword Research Tool
Surfer supports approximately 70 different languages.
It also provides a chrome extension which allows seeing the data below upon installation:
Number of times specific keywords have been included in the content
Monthly organic traffic for Google pages that include your keyword research strategy
2. SEPR Analyzer
The analyzer assists you with your on-page SEO by reviewing pages that are listed on Google SERP…
and highlighting a list of the dos and don'ts for a particular keyword.
3. Audit Tool
With the Surfer audit tools, you can boost your Google SERP page ranking spots.
All you must do is key in keywords in your website's URL and run the tool.
4. Content Planner
The Surfer content planner is suitable for users who want their web pages to rank for highly competitive terms.
5. Content Editor
Users can utilize the content editor to plan their content before writing.
The content editor analyzes the best ranking pages for the user upon entering the keyword.
B. Pricing: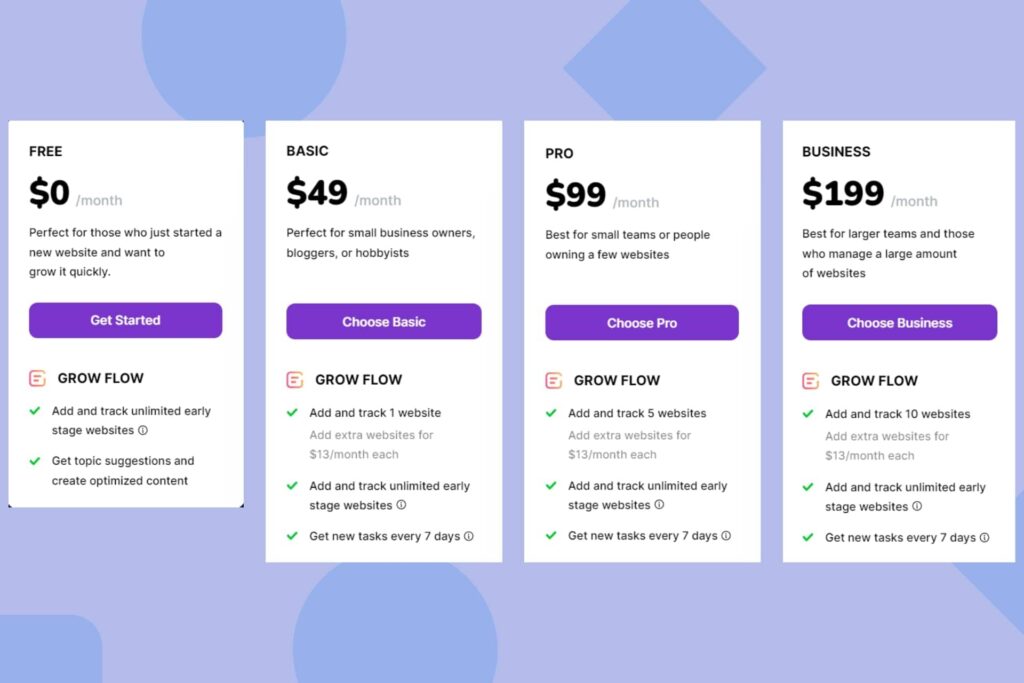 Neuron Writer Vs Surfer SEO: Final Conclusion
On the whole, Neuron Writer is better for content optimization than Surfer SEO.
However, there are some key differences between the two tools that should be considered before making a decision.
Neuron Writer: Should You Go for It?
Neuron Writer is an artificial intelligent content writing tool that enables users to produce semantic, keyword-rich, well-structured, and SEO content that has been optimized.
Neuron writer uses NLP, or natural language processing, to analyze and understand the user's intent while writing.
This ensures that the content is both informative and engaging.
Moreover, you can use NeuronWriter to create high-quality content for your website without spending a fortune on SEO services.
Where to Purchase?
Currently, Neuron Writer is running a Life Time Deal on Appsumo.
This means you can get access for a lifetime.
Once you purchase the software, you will have lifetime access to all of its features.
If you're looking to take your content marketing up a notch, Neuron Writer is definitely worth considering.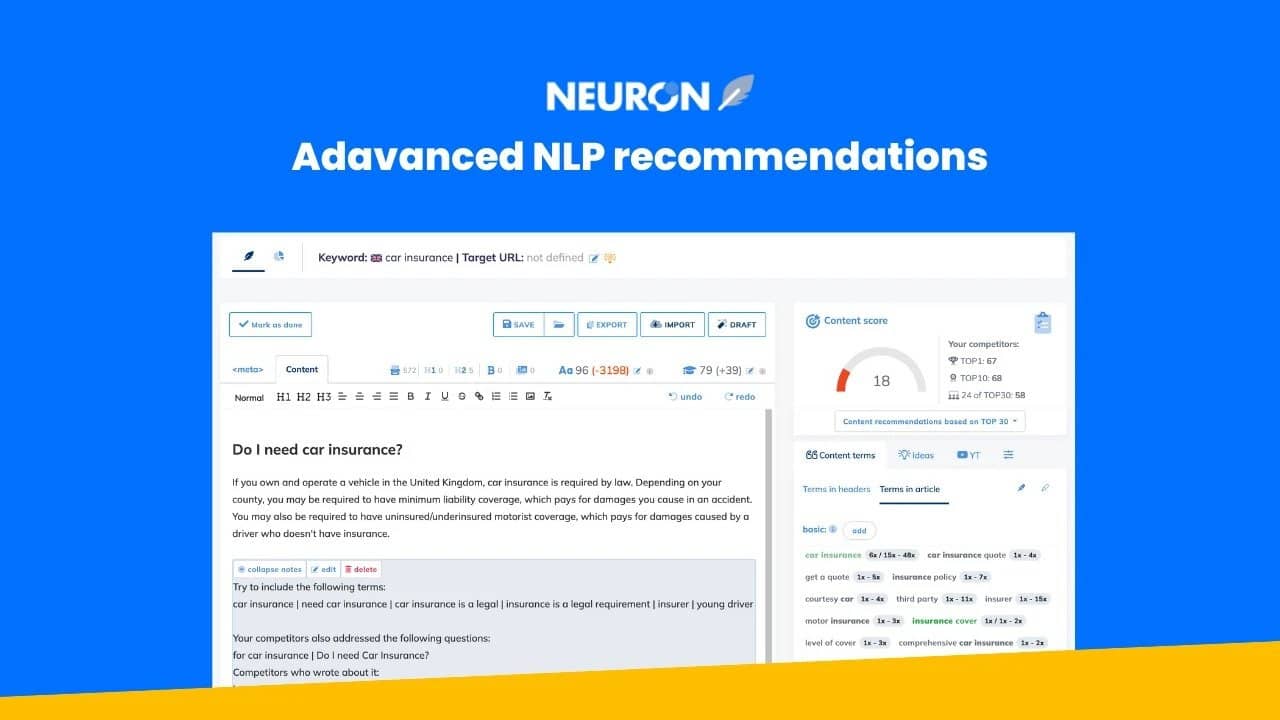 Rank #1 on Google by using NLP keywords with the help of Neuron Writer.
Neuron Writer is running a Life Time Deal on Appsumo
Pros
Content Planning & Article Drafting
AI Writer
Competitor Analysis
Rank using NLP Keywords
Cons
Dedicated Keyword Research Tool
Site Audit Tool
Wrap Up:
While Neuron Writer and Surfer SEO are great optimization tools, NeuronWriter is a better option for those looking to produce high-quality content without spending a lot of money on SEO services.
Overall, if you are looking for an affordable way to produce high-quality content, then NeuronWriter is a good option for you.
However, if you are looking for a more powerful and expensive tool that will help you achieve top rankings quickly, then Surfer SEO should be your choice.
---
To learn more about content optimization, check this page in Work In Home.
Our website educates about SEO and improves your website's content.